Play for atmosphere
A bell rang solemnly from the village square.  The elders gathered the small village together.  The group became larger, and as it did a tense feeling filled the air.  Each and every villager knew exactly why they had gathered.  A sickening slaughter of suspicious villagers would be the only way to rid the sorcerer and it's magic from Eternal Falls.
It was the sorcerers plan to plant seeds of mistrust.  A withering old man, dressed in a worn cowl began to speak to the group.  His hands shook from age.  His beard whipped through the evening air.  His lips parted as he brought the news to his fellow group.
"Eternal Falls, it is with great sadness for me to tell you this, but a few among you cannot be trusted.  Our village elders have heard of a sorcerer who has brought to us a curse so treacherous that not even the very strong could withstand."
Glances from the crowd and a murmur began to rise.  The elder who spoke could feel the unease.  His shaky hands rose from his sides to silence the group and so the speech went on.
"The sorcerer is among one of you, they have also brought with them a werewolf or two.  This creature stalks the night, seeking out the innocent to eat.  What ever this sorcerer has in mind, it is uncertain why they have brought this evil to our once so quiet home."
The first elder who had spoke had stepped back from the group to make way for another to speak her words.  Her face was sharp, matured with age, and an air about her that spoke with command and confidence.  Her dark green robe she had worn billowed gently as the breeze from the evening air brushed her clothes similar to the man mustache.
"Villagers, we must not let this evil take its course.  The village elders have decided that it is up to you to report suspicious villagers.  In doing so during the day we will lynch the evil from our village one by one.  I cannot speak for our safety at night, but until this village is cured there will be no rest.  The next town meeting will be soon, please be ready when you receive your letter of summons."
The elders withdrew leaving the crowd with many questions.  It would be soon that this village would need all of their wit to survive.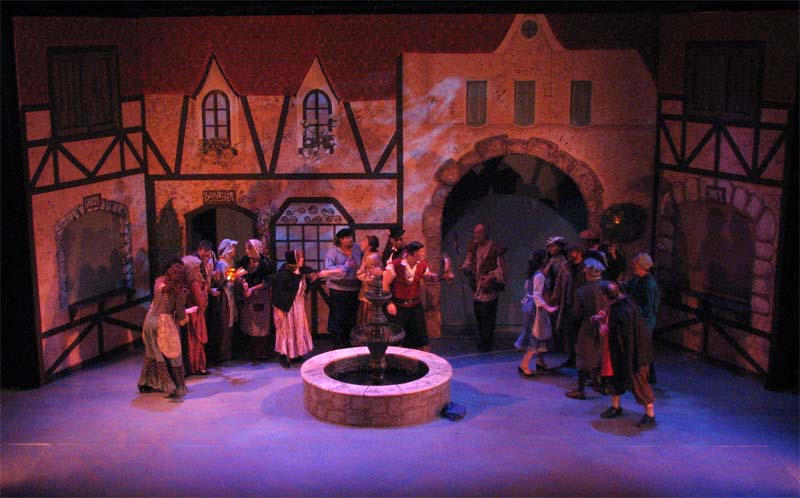 Welcome everyone to Incog's first season of werewolf.  If you are not familiar with the rules to the game, please go back and read the thread marked rules.
I will further introduce more specifically the method of posting and voting.
Posting rules:
In order to find out who among you is evil you will be posting anything to further discussion about the task at hand.  I will ask that you please do not for any reason, go back and edit your posts.  Editing your post will result in me removing you from the game unfortunately.  To try to remedy this I will see if I can make that impossible.
As stated previously, you are in a game where some people end up lying.  It's just part of the game, don't take it personally as the majority of you will be clueless on who is being truthful and who is being deceitful.
On the other spectrum, please do speak to others how you would wish to be spoken to.  Please try to be respectful.  Heated discussion is okay, healthy debate is okay.
The Voting Process:
The voting will happen publicly within the dedicated thread of discussion for that day phase.
Each one of you will be allowed one vote during the day phase. In order to use that vote, you will state the following.
I vote: Mr. Slippy
Bolding it and making it red, I will see easily who you wish to be lynching.
If you find that during discussion that someone else is acting more suspicious than the last person you voted, I will ask that you do the following
Unvote: Mr. SlippyI Vote: Mr. Flippy
This will help me readjust the votes accordingly.
The voting is a majority vote.  This means 50 percent of the vote, plus one, will cause an immediate lynch.
If the 5 days pass and a majority is not reached, there will be no lynch and the night phase will occur.
Once someone has been lynched, that person will not be permitted to participate in discussion anymore.  You will also not be allowed to contact other people still in the game about your thoughts etc.  You can however, follow along, read the forums and curse silently at the group for things that happened.
At the end of the game, there will be a thread dedicated to a reunion where you all can discuss and talk with each other about the developments that have happened over the game.
Pace of the game:
This game will be a slow pace.  As stated previously, it is good practice to at least visit the website once a day and post once a day.  Lurking and Active Lurking can be detrimental to the team.
If you miss a day that is fine, but remember you have signed up to play, so try to participate as best as you can.
The Day Phase will last approximately 5 days, unless an early lynch occurs it will last less.  A night phase will last 2 days where all special actions  will be taken into account.
I will make sure that deadlines are clear and will reach out to people who have not posted in some time to keep the game going.
The Roles and format:
1.  Roles are revealed after every lynch and every night kill
2.  9 players so far have signed up, this may be subject to change if I get any late comers by Sunday evening.
The List of Roles and description:
T
eam Villagers:
3 Villagers:  Villagers, you have no night actions, you will have no information given to you about the other players.  It is with your wit, debate, discussion and vote during day phases where you will try to rid the village of the evil team.
1 Seer: Seer, during the night phase, you will be asked to pick a person you want.  You will find out if they are evil or good.  Use this knowledge to assist the village in weeding out the bad guys.  Careful not to be too obvious as you may get night killed if revealed.
1 Body Guard:  Body Guard, you will be asked to pick a person you want to save during the night.  If that person is attacked by the werewolf, you will have saved their life.  The village will wake up with no one dying.  You may not pick the same person two nights in a row. You may pick yourself as long as you do not pick yourself two times in a row.
1 Lycan:  Unfortunately the sorcerers curse has befallen on you.  You are a villager, a good guy.  However, the Seer will view you as a werewolf, even though you are on the villagers team.  You do not have any special night action. 
1 Cursed: You are a villager at the beginning of the game.  However, if at night you are attacked by a werewolf, you will also turn into a werewolf and join team evil.  You will not die when you are attacked  at night.  The seer will see you as a villager, when you are on team villager.  However, if you have been changed into a werewolf, then you will be seen as evil.
Team Werewolf
1: Werewolf:  You are woken up at night, each night you will be asked who you wish to kill.  The seer will know you are a werewolf if they check you. You will not know who the sorcerer is.
1: Sorcerer:  You are woken up at night, each night you will select one person.  You will find out if they are the seer or not.  You will not know who the werewolves are.
Short List of roles:
3 Villagers
1 Seer
1 Lycan
1 Cursed
1 Body Guard
1 Werewolf
1 Sorcerer
Take note the Cursed villager will switch teams if the werewolf attacks them.
If you have questions, please begin to post them.  Roles will go out tomorrow.
CAST LIST: CONFIRMED
3.  Witty  
8. Pascal_B  
6. Jackie 
9. Romulus 
4.  Angi 
1.  Termy 
2.  Mr. Ricey 
5.  Nocturne 
7. glendon 
CAST LIST: NOT CONFIRMED
Cast List: